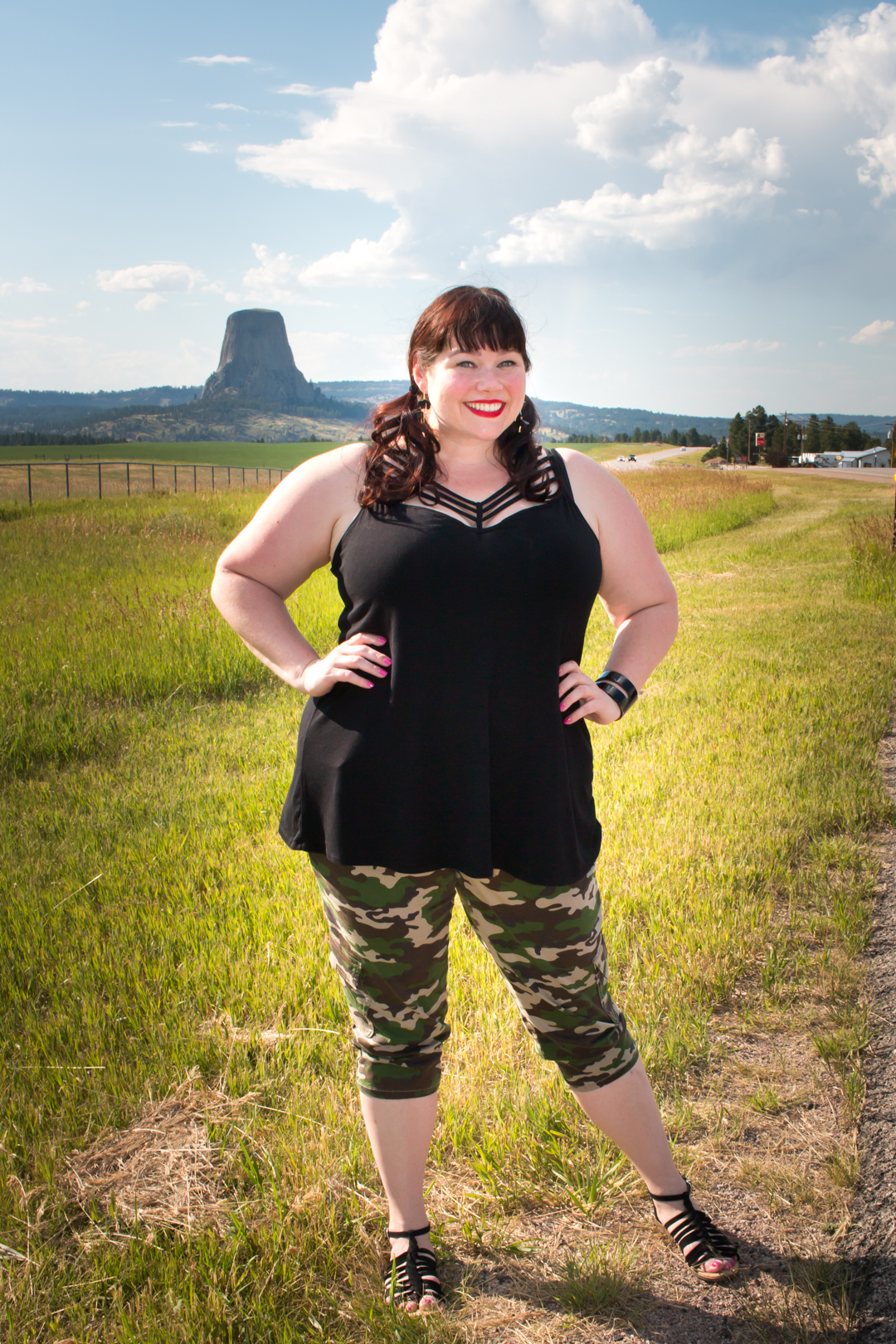 I'm so in love with these Loralette Plus Size Camo pants! Seriously. I don't really own a lot of camo printed things, but these Camo Twill Skinny Capri pants just jumped out at me on the Loralette site. I knew they'd look great paired with a black cage v-neck  tank (also from their collection), and I had to take them on my recent road trip out west. See the full outfit details after the jump >>
Have you heard all of the amazing news from Lane Bryant and their #PlusisEqual campaign for New York Fashion Week? I've been loving all of the pictures posted by my fellow plus size bloggers and models who were lucky enough to be in NY for the launch party. So, instead of being jealous, I am celebrating here in Chicago by featuring an all Lane Bryant outfit. And YES, that is a CAMO SEQUIN PENCIL SKIRT!! Lane Bryant put out this Camo Sequin Pencil Skirt a month or two ago and I was obsessed from the minute I saw it. Did you know that the fashion gods have deemed sequins appropriate for day wear?? Well, I wanted to test that out and came up with this work-to-event look — entirely from Lane Bryant.
Lane Bryant Outfit: Camo Sequin Pencil Skirt; Distressed Denim Jean Jacket; Grosgrain Tank in Veiled Rose; Metallic Strappy Heel in Rose Quartz
Pairing this amazing camo skirt with a blush pink tank top plays with the idea of hard/soft…and the addition of the jean jacket adds a casual element that makes this whole outfit work for daytime. Simply remove the jacket to transition to evening!
A note on sizing: the camo pencil skirt runs small — order one or two sizes up! Also, if you have wide width feet, you'll love these heels — so pretty and very roomy!!
I also decided to try out the Cobalt Eyeshadow trend with this look…very dramatic — but still not sure how I feel about it! lol
So, there you have it. Be bold and wear those sequins to the office — I know you want to!