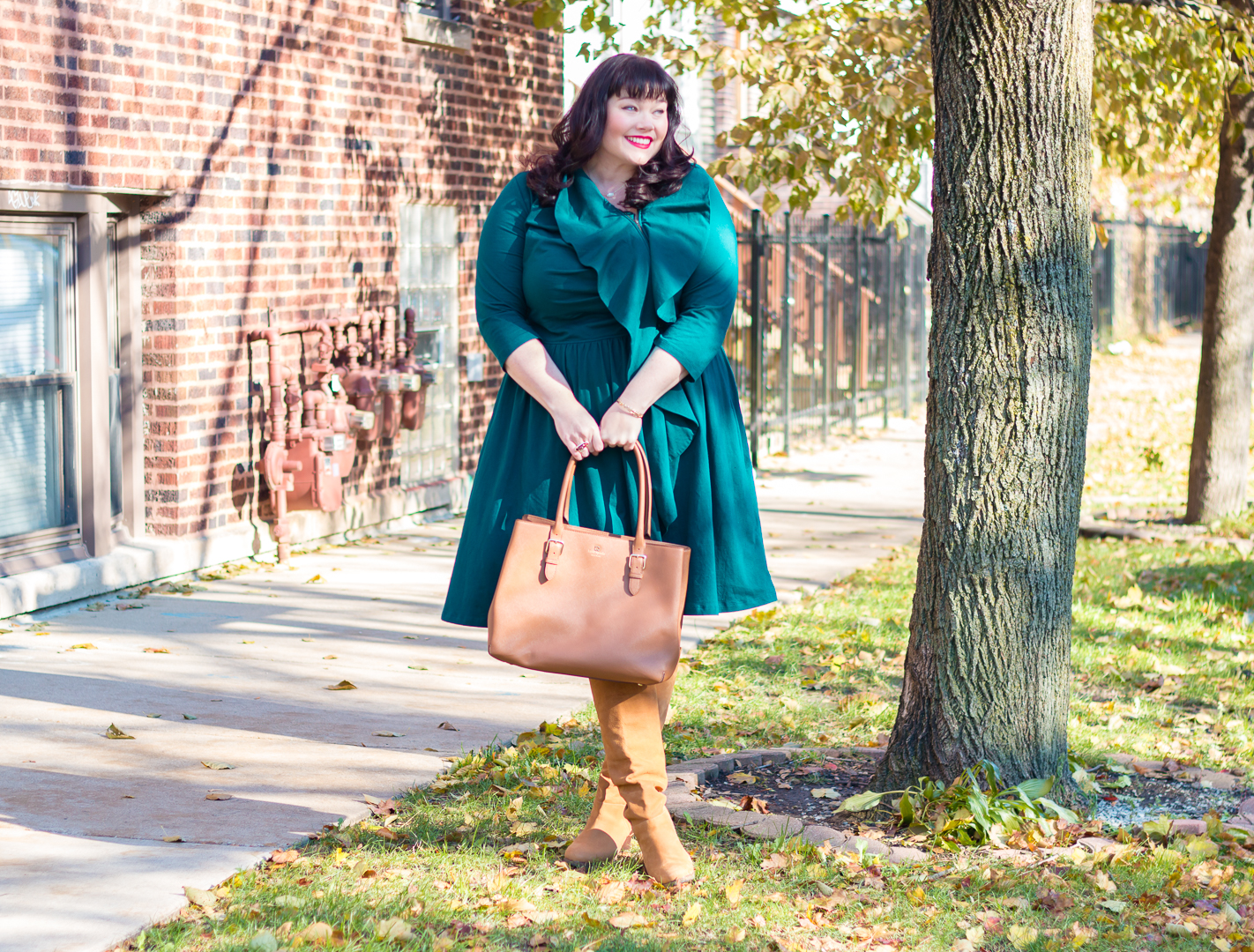 Have you ever tried eShakti? No? Then I'm about to change your world with custom plus size fashion! If you have ever seen a dress on a website and wished that you could tweak it to suit your height, shape and preferences, then you will be delighted by eShakti! Want to change the sleeve or the neckline? Or customized the length higher or lower? What about adding or eliminating pockets? Well, eShakti is the place for you. Read on to hear more about the custom plus size fashion this innovative retailer offers.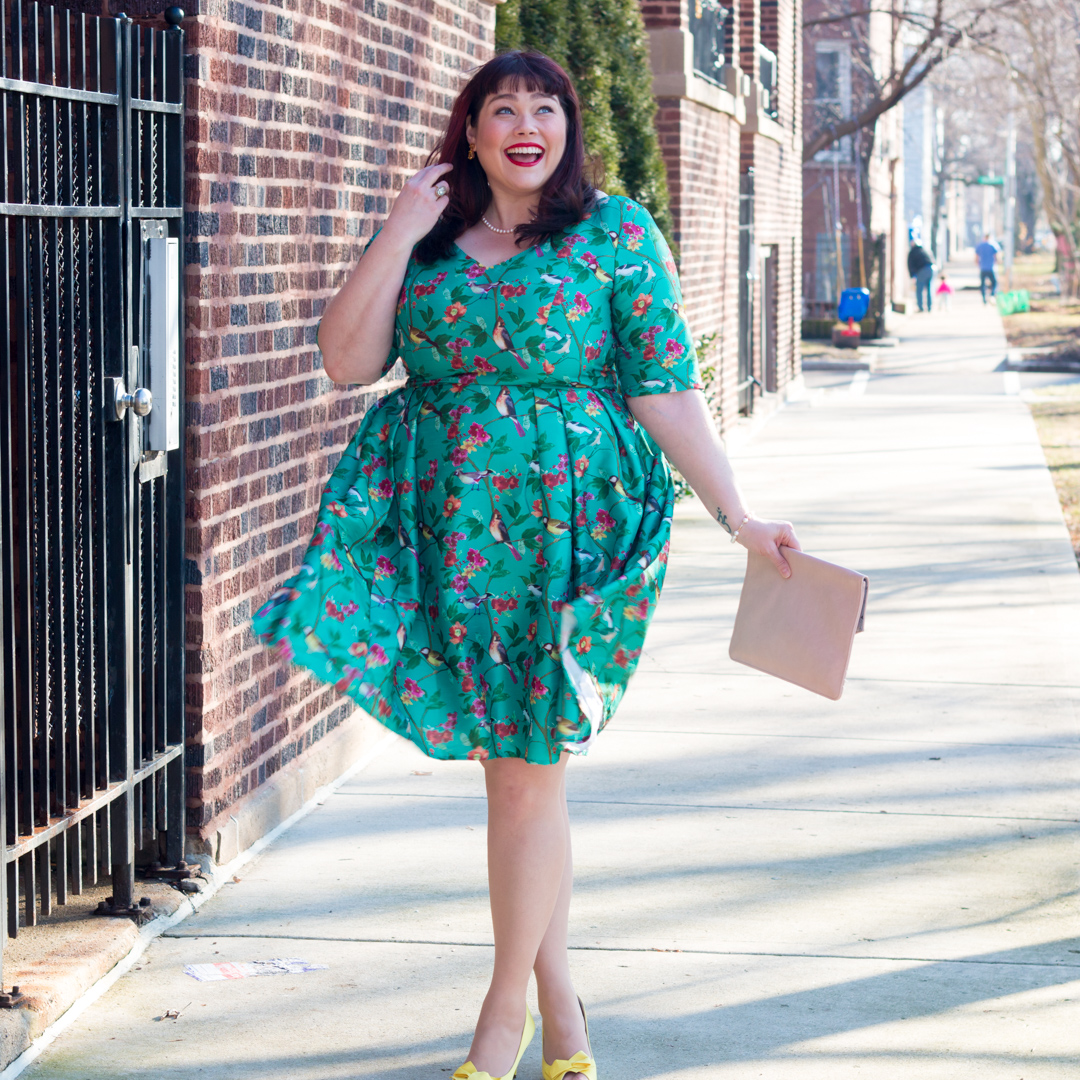 When I was growing up, my Mom used to make our clothes, and it was an incredible feeling to know that there was something being made especially for you and with your input. Once I got older and started shopping for myself in ready-to-wear retail stores, I forgot how amazing it felt to wear a garment customized for my body. That is…until I discovered eShakti a few years ago! I've collaborated with eShakti on a few reviews over the years, and I thought it was time to feature them again*. Especially when I saw this beautiful dupioni silk dress in this amazing bird floral print!
I love designing my own custom plus size dresses, and there's a new online shop that allows you to customize dresses from size 0 to size 36! It's called K Couture. You can customize an existing design or use their "Design a Dress" feature to create your own look from a selection of elements like the sleeves, the neckline, the fabric, the waistline, and the length. I totally got sucked into spending hours playing around with all the different colors, cuts and options–so don't be surprised if you get obsessed with their site.
In the end, I ordered the Skyler Bubble Dress in a deep Emerald Green in a size 20 with a boatneck and 3/4 length sleeves. Look at that rich emerald green taffeta! Love the color and the sheen. And the pleats around the skirt make the perfect bubble shape! (I know, I know…I should have used a steamer before the photo shoot!)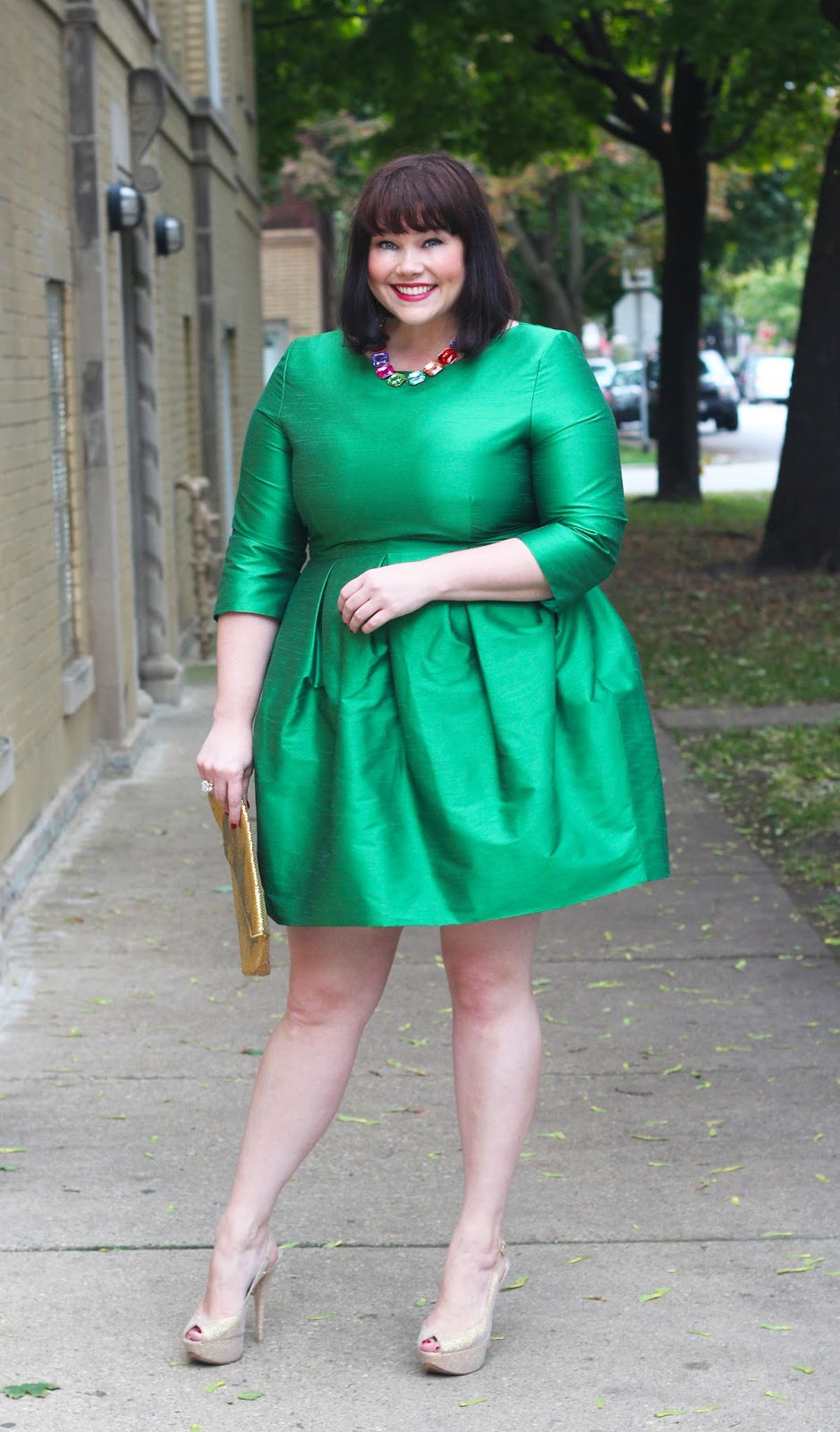 A note of caution, though: K Couture dresses can run a bit smaller than department store sizing, so USE THE SIZE CHART and take your measurements! Do NOT skip this step! I was sloppy with my measurements and ordered a size 20, but I really should have ordered an additional size up! If your measurements don't fit into one of the size chart ranges, then order for the biggest part of your body. Since mine is my chest and shoulders, I should have probably ordered a size 22. You can see that this dress is a bit tight in the chest and arms, and it's entirely my fault.
There are a few things I could have done to prevent this from happening:
Use the Size Chart
Take accurate measurements (Here's a helpful blog post about this)
Call the knowledgeable K Couture stylists for free at 855-612-5426 if you are unsure of what size is best, or if you might need a custom size.
If you try these things and you still end up with a dress that is too tight in one spot or another, call K Couture and they will help you.
Nevertheless, I LOVE this dress and think it's perfect for upcoming holiday parties!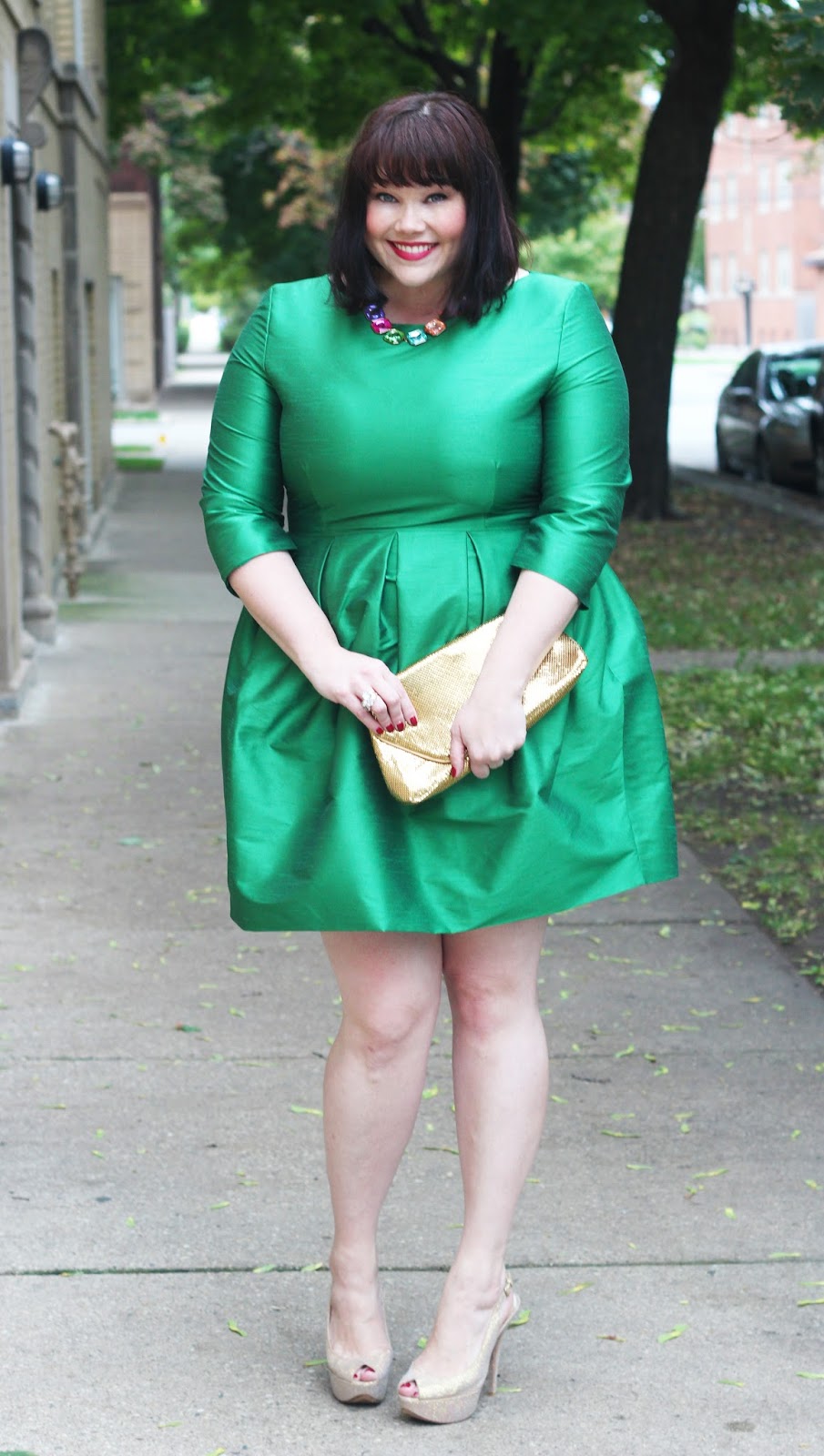 Also, did I mention that K Couture dresses are designed and made from quality fabrics in-house, right here in the United States, and shipping is always free?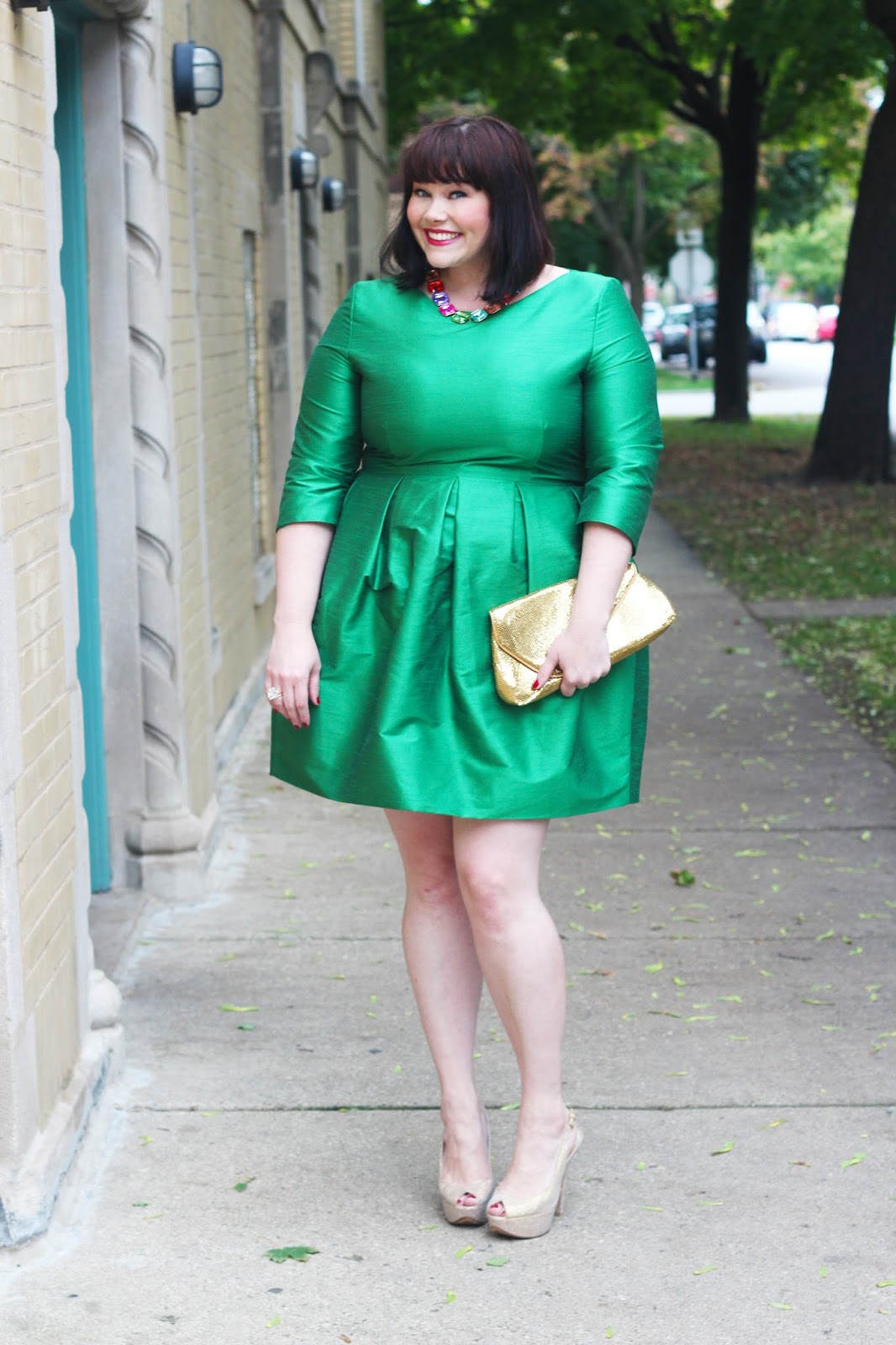 So, whether you are a guest at an upcoming wedding, picking out bridesmaids dresses, have a formal dinner on the calendar, or you just love dressing up, try out the custom plus size dress options at K Couture!