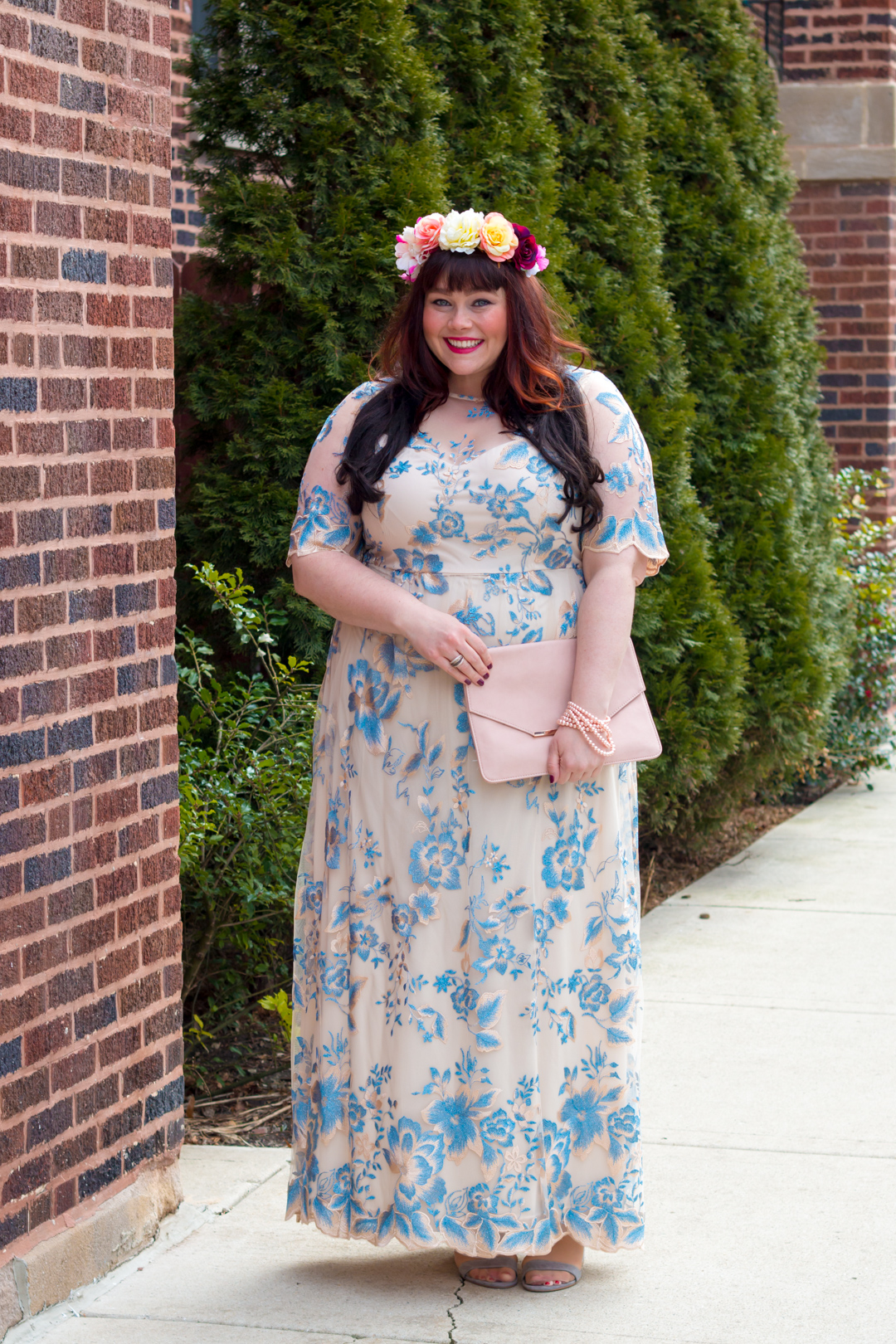 Welcoming spring in this divine blush and blue plus size Adrianna Papell Embroidered Mesh Gown from Nordstrom. I feel like a fairy princess in this gown! The embroidery is so delicate and beautiful and the blush colored mesh overlay is so light and ethereal! Read more>> 
What's wrong with this picture????
I mean, come ON Nordstrom….not only does this not make me want to BUY this dress, it kind of makes me thow up in my mouth a little bit… I mean, look at her ARMS!
Marketing FAIL.
Now, to be fair…many of the plus size models on their site are gorgeous women with curves, but everynow and then, one of these horrific pictures will come up. I'm sure the shoot was for "straight-sized" clothing and they just used it for the plus version too…but bleck. It totally turns me off. It'd be interesting to see how many of these plus size dresses they sell compared to the ones that are modeled by actual plus size women….
What do you think?
Seriously…my friends have all heard me complain about the horrible clothes–or NO clothes–that most stores offer plus-size women. The stores that do have a plus-size section often fill their racks with shapeless cotton-blend sacks that make bigger women look like a sad balloon that is starting to deflate after a disappointing party.
BUT, ladies–there IS hope!!! I was recently at Nordstrom (not my usual shopping ground since I'm somewhat cheap) and I wandered into the plus-size section that they call Encore. I'm telling you…I've never felt so pretty or stylish! The staff was friendly, offering suggestions that were pretty perfect not just for my body type…but for my age, and what little they could tell of my personality. If I had more money in my account, and wasn't about to go to Vegas…I swear I would have blown my whole paycheck!!! But, I ended up buying 3 things that I'm sure I'm going to wear everyday here in Chicago…once the weather turns cooler, that is. Want to see???
One A Stripe Trim Cardigan
I absolutely LOVE the cascading folds on the front of this cardigan and the button details on the sleeves. It is extremely flattering and very easy to wear. This is going to be one of my most worn tops this fall, I'm sure!!
Sejour Sheer Knit Tee
Even though this is a higher neckline than I usually wear (I love to show off my girls, if ya know what I mean), with a black tank underneath, it shows just the right amount of skin to be alluring. And it's oh-so-soft…but it is pretty delicate material, so I have to be very careful not to snag it on anything!
Not Your Daughter's Jeans Flare Leg Stretch
AHHHHHHHHH Can I possibly explain how my heart leapt in my chest when I tried these on in the dressing room??? They are seriously the most comfortable, slimming jeans that I've ever put on my body. AND…they didn't push up the dreaded muffin top…or squeeze the belly to create the unfortunate FUPA look. They were on sale for $85 (which is more than I've ever paid for jeans), but I had to have them!
Has anyone else started shopping for Fall?? What are your favorite purchases so far??